Your ticket for a magical flight to the edge of the stratosphere
Normally being down to earth isn't a bad thing, especially if you own a solid business. But sometimes you should reach for the stars, and luckily we are able to provide you with this opportunity. How about an advertisement at the edge of space? Our team from Stratoflights is specialized in this unique form of marketing and it would be a pleasure for us to work with you. The idea is simple: We take a weather balloon, stick a camera to it and send it up into space. The balloon can reach about 40.000 meters (131.233 feet), which is three times higher than any commercial plane will ever take you. At this magical point you can truly see the world as a globe.
A stratospheric balloon provides the lift
This is filled with helium and climbs up to an altitude of 40,000 meters where the curvature of the earth and the blackness of space become visible.
➜ More infos
---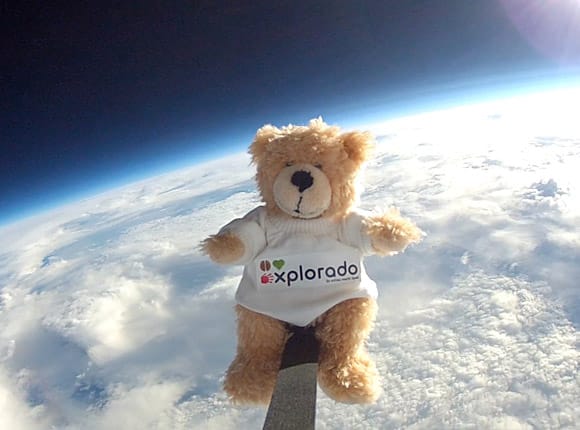 Your advertising platform
in the stratosphere
Up to three cameras capture the magical moments of your product or sales message in front of a fascinating background while floating high above the earth.
➜ More infos
---
Adventurous team events
Let's start a mission into the stratosphere. Together we launch the balloon and recover the equipment with GPS devices. The sense of achievement is overwhelming.
➜ More infos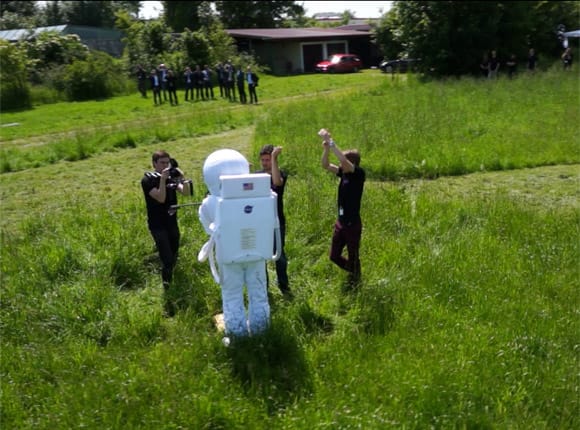 ---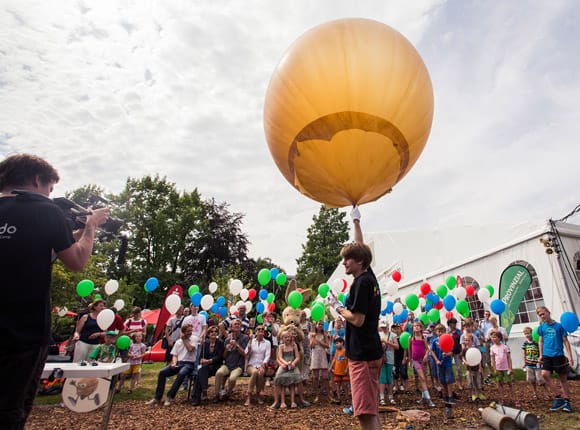 Spectacular live events
Our stratospheric balloon rises into the sky, attended by hundreds of small balloons. The guests can follow this adventure on a live screen and see how the balloon breaks through the clouds.
➜ More infos
---
360-Degree-Video Production
Inspire your audience with a 360-degree-video. You can create the illusion of a virtual world with an interactive video. This is a new experience which gives you another unique selling proposition.
➜ More infos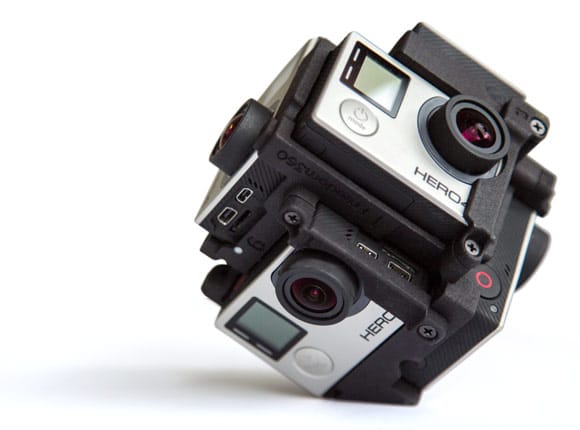 Galactic advertisement for your company
The video would be a great starter for your social media campaign. And if you add an emotional story to the mix, it would make an awesome guerilla marketing to set yourself above.
Because of the extreme conditions in which the advertisement will take place, the pictures will become even more valuable for your purpose. Just think about it, if your product can survive a space experience what possibilities would it have on earth. And it will show the consumer how far you're able to reach out.
The most memorable summer festival of your company
You always had the dream to make your next team event the most remarkable experience ever? We are able to provide you with one of the most spectacular events of all time. Even a live feed of the balloon on its way up to the stratosphere is possible, which you can present on a big TV screen.
You want to provide your guests with an original act at your next party? Then you should definitely let us launch a balloon, plus a bunch of other smaller balloons as the main attraction. In this case we will provide you with:
Short briefing with the concept
The weather balloon for the flight to the stratosphere
200 smaller balloons, which will join the big one
A live feed of the balloon while rising
Optional drone for an aerial view
Let us inspire you!
A flight to the stratosphere as an awesome advertisement
Creative marketing should be an outstanding mark for your company, it means that you're able to surprise and impress the customers. And what will suit you better than your product in front of a live image of our beautiful earth. You can use our services for any event you can think of, for example at an anniversary, a summer festival or as the opening for your newest commercial.
Recent blog articles
"Babbel net" is what the Kurpfälzer says when someone is not supposed to say stupid stuff. Comedian Bülent Ceylan wants to protect his audience from this and therefore reveals in his show "Babbel net" everything you should know about the … Continue reading →
The release of the new OnePlus 10 Pro 5G is themed "Capture every Horizon". The aim of the Europe-wide campaign is to reinforce the brand's never-settle attitude with a spectacular project. Together with the community, we took up the challenge … Continue reading →
On 15th December 2021, FLS Group prepared for its new brand identity with an epic one-off delivery. As supply chain experts covering the globe with seamless logistics solutions, FLS launched its new CEO's business card high above the earth – … Continue reading →